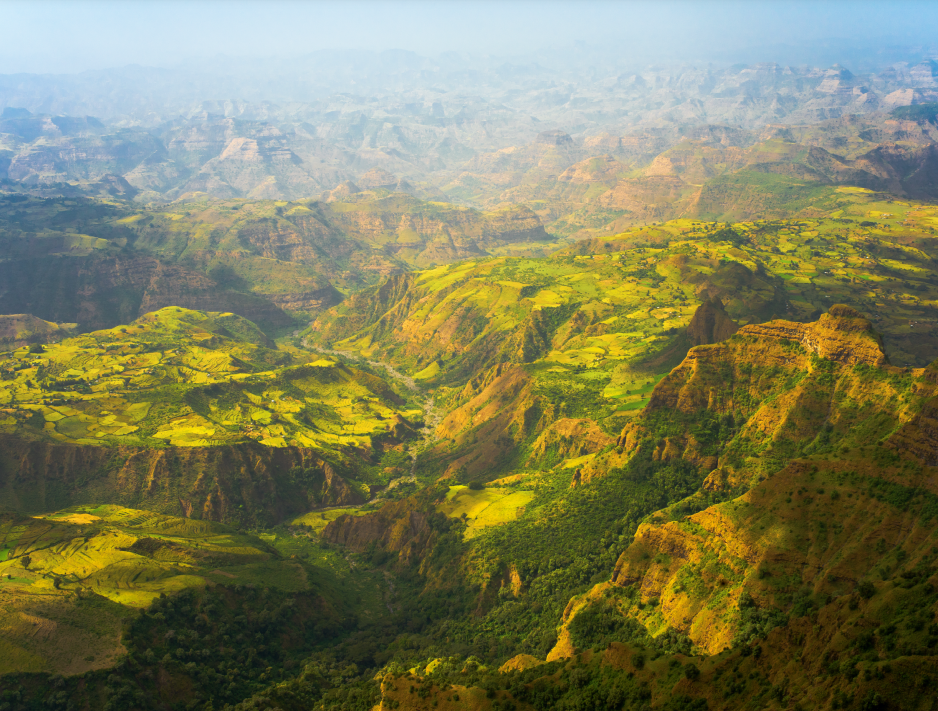 EXPLORE THE FINDINGS AND DATA FROM THE LANDSCAPE OF CLIMATE FINANCE IN AFRICA
Being Africa's sixth largest and fastest growing economy, Ethiopia has shown a strong commitment to being a middle-income country by 2025. Since the launch of the Climate Resilient and Green Economy (CRGE) strategy in 2011, it has established a rich policy landscape coupling economic growth with climate change action. Ethiopia's ambitious climate targets are focused on ensuring low-carbon energy development, conservation of its vast forest reserves, and practicing climate smart agriculture, while mainstreaming adaptation and resilience as a key priority.
This report provides a deep dive analysis of the landscape of climate finance in Ethiopia in 2019/2020. The analysis is based on the methodology and database developed by CPI for the Landscape of Climate Finance in Africa. While data gaps, especially on the domestic budget expenditure and private investments limits a comprehensive assessment, the aim of the study is to inform and facilitate discussions among policymakers and public and private financiers, identifying gaps and opportunities for scaling climate finance in Ethiopia.
Key findings
In 2019/20, an average of USD 1.7 billion per year of investments were committed towards climate change related activities. This is only 7% of Ethiopia's estimated climate finance needs (USD 25.3  billion) and less than 2% of Ethiopia's GDP in 2019/20.
Ethiopia attracted more climate finance for adaptation (56%) than mitigation (38%) projects – a stark contrast with the global average (7% and 90%, respectively).
Heavy reliance on grant and concessional financing for mitigation projects reflects high investment risks, actual and perceived, and raises a concern for long-term sustainable flow of investments. This is not in line with the overall trends observed for Africa where loans were the preferred instruments for climate finance.
The current landscape of climate finance in Ethiopia is dominated by international public financiers (92%), as private finance from domestic and international investors lags (8%). The majority of public climate financing is channelized through grants (70%).
Agriculture, forestry and other land use (AFOLU) is the highest contributor to GHG emissions in Ethiopia (83%) and received the majority of climate finance (29%, USD 486 million) in 2019/20, though nowhere near its proportion of emissions.
Based on data analysis, desk research and stakeholder interviews, the following recommendations are proposed, which can help Ethiopia mobilize climate finance and improve the quality and quantity of climate finance tracking.
The Ministry of Finance and the CRGE Facility can build a one-stop-shop for a publicly accessible and comprehensive knowledge management system that not only tracks climate relevant domestic public expenditure but also investments from other public and private financial actors. This can help identify entry points for the efficient use of public resources and bringing transparency in investment decision making.
Development Financial Institutions can implement blended financial instruments for de-risking climate investments and promote public private partnerships to engage more with the private sector.
The National Bank of Ethiopia can enable the policy and regulatory environment for accelerating private investments for green economy through developing capital markets, addressing foreign currency shortages, creating a favorable collateral policy for small-holder farmers and small and medium size enterprises (SMEs), attractive lending terms to microfinance institutions and deepening mobile banking services
Development partners and the Ministry of Finance can support in building long-term technical and financial capacity with sub-national and non-state actors for the effective implementation of climate action plans on the ground, which will support with accessing more international climate finance. This can help Ethiopia build a more holistic and long-term strategy for climate finance.